Whether you have recently struck out on your own, or you have a large family to feed, meal costs can rapidly consume your budget, especially if you are dining out a lot or buying pre-made or ready to eat meals.
I've collected over 90 great recipes for dirt cheap meals you can make at home on a budget, many using ingredients you may already have in your pantry. Most of these recipes are easy to make and have buckets of flavour.
Don't settle for eating cereal when your budget is low, you can still make amazing meals for yourself and your family!
Jump to:
Eggs can be a great foundation for a quick, economical and healthy meal, they are packed with protein and incredibly versatile.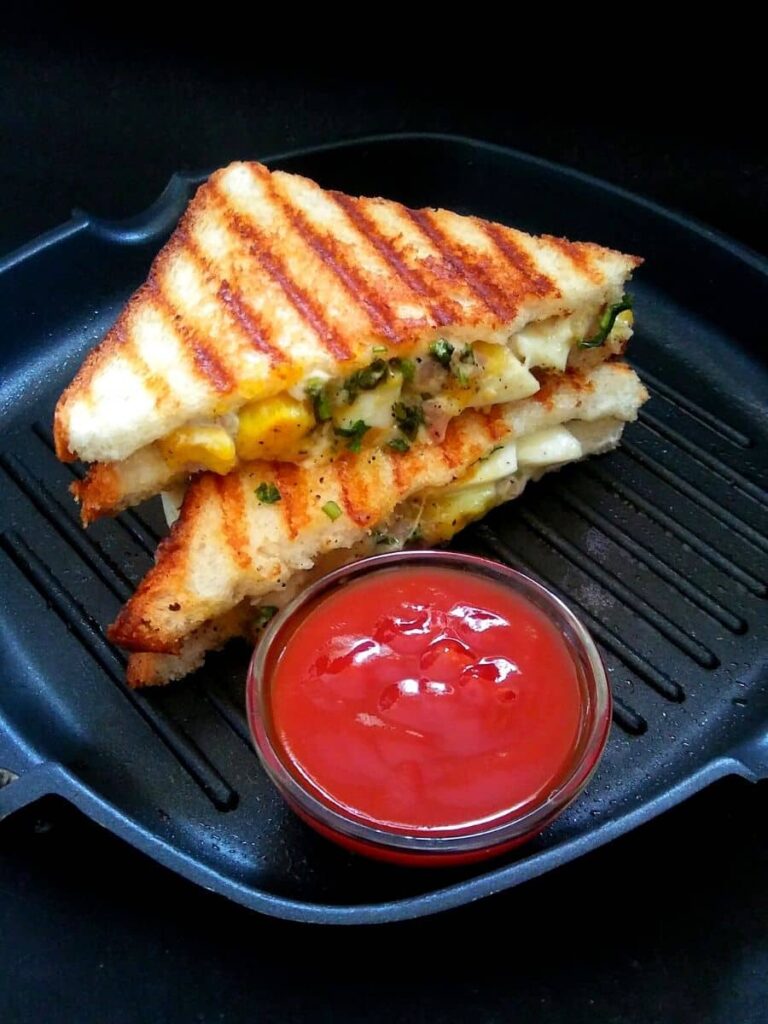 Sometimes you want something, quick, easy and tasty for not a lot of money, for those times, this boiled egg sandwich by Spoons of flavor is just the ticket.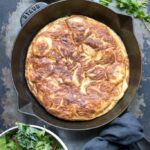 Or, if you are looking to use your eggs in a slightly fancier way, whip up this tasty classic Spanish Omelette by Veggie Desserts in 25 minutes with 4 simple pantry ingredients.
Potatoes are another great staple food. You can grow them yourself, or buy a large bag cheaply from the supermarket and turn them into so many different tasty dishes, like these amazing curried potatoes from Hurry the food up.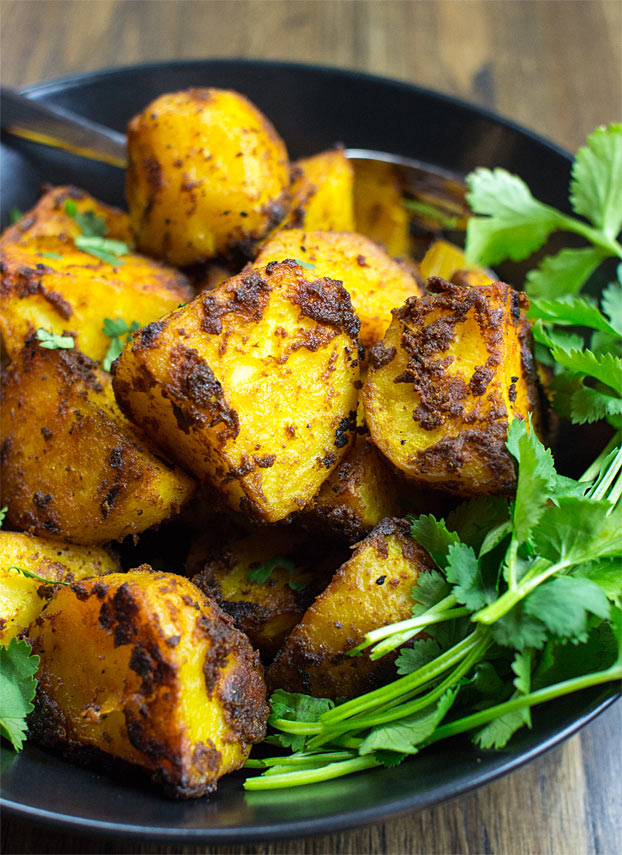 These Potato Latke's by Sweet and Savory meals merge the goodness of both eggs and potatoes to make crispy golden discs of goodness that need just a few fresh ingredients together with staples and spices from your pantry, a delicious way to make something a bit different with your potatoes.
And these cheap, easy and delicious Tuna and Potato patties by It's not complicated recipes are a great way to use up pantry staples and make a healthy, budget friendly dinner for yourself or your family.
Cheap soup recipes
Soups are a great way to make a delicious meal on a small budget. These recipes reduce ingredients down to their essence to impart rich and dynamic flavours and textures. Especially in winter, there is nothing quite like a warm pot on the stove that you can ladle a rich, warm and filling soup from, either as a meal by itself, or a appetizer.
This Olive garden copycat minestrone soup by The Belly Rules the mind tastes just like the restaurant version. Warm, filling, and full of veggies, this soup is easy to make and takes less than 10 minutes to prepare. Great if you are feeding a family.
This cabbage soup recipe by Life and home school is super cost effective! Especially if you make your own stock (the recipe has a link for that as well!).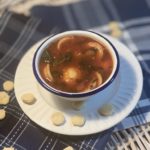 This lazy ravioli soup by The Lazy Slow Cooker made in the crockpot is an economical but flavorful dish you will want to make on repeat. An easy crowd pleaser! (And if you don't have one, A kitchen tool like a crockpot can be a great investment in making dirt cheap meals in the future).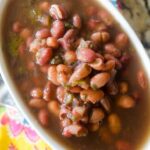 This delicious Instant Pot Two Bean Soup by This Ole Mum makes a quick and easy meal and it's budget-friendly. (Like the crockpot, an Instant pot (or an alternative pressure cooker) can be a great investment in making tasty affordable meals from cheaper ingredients).
Lentils are ubiquitous in some parts of the world, and no wonder, they are dirt cheap, store well and so flexible in making a range of tasty and healthy dishes and are a valuable addition to any meatless meal.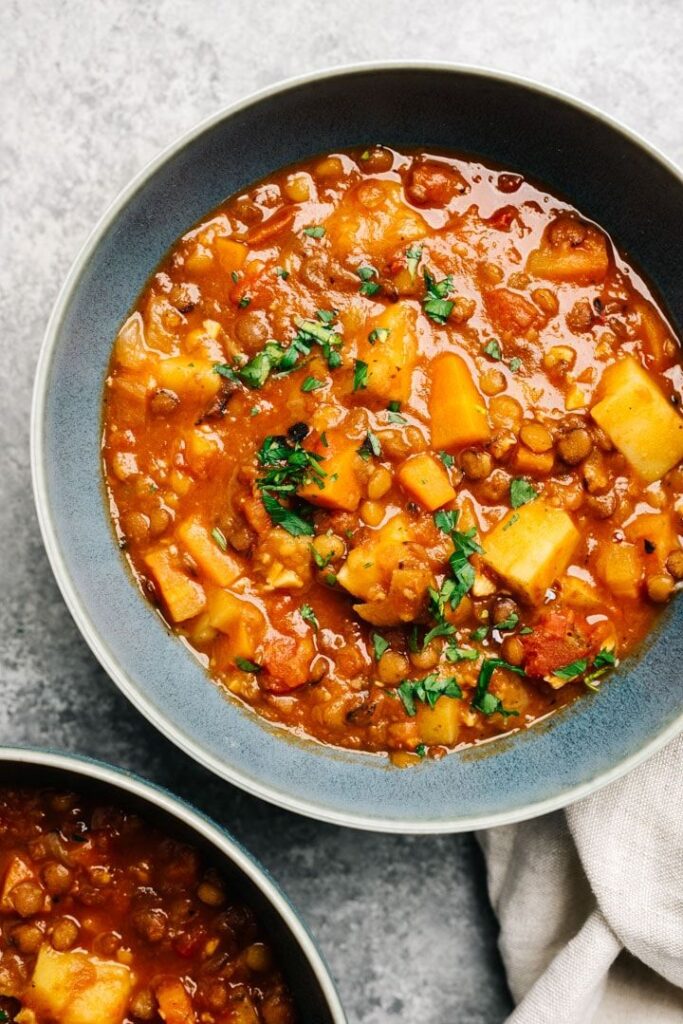 For an economical but crave-worthy meal, look no further than Instant Pot Lentil Soup. It's made with humble pantry ingredients, but the resulting flavor is anything but. Making this instant pot lentil soup recipe from Our Salty Kitchen in your pressure cooker results in the most creamy and tender lentils possible – they're so delicious.
Another delicious quick soup is this easy veggie lentil soup by This healthy kitchen, A one pot soup that's delicious, filling and wholesome. Made using lentils, split peas and veggies and ready in no time!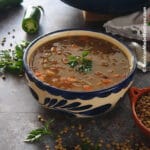 This vegan lentil soup from Mexican made meatless, it's delicious and super healthy. Plus easy to make and very budget friendly.
Moroccan Carrot Red Lentil Soup by A Cedar Spoon is a meatless soup recipe packed full of flavor! Cumin, turmeric, coriander, paprika and cinnamon compliment the red lentils and carrots, creating a creamy, filling soup.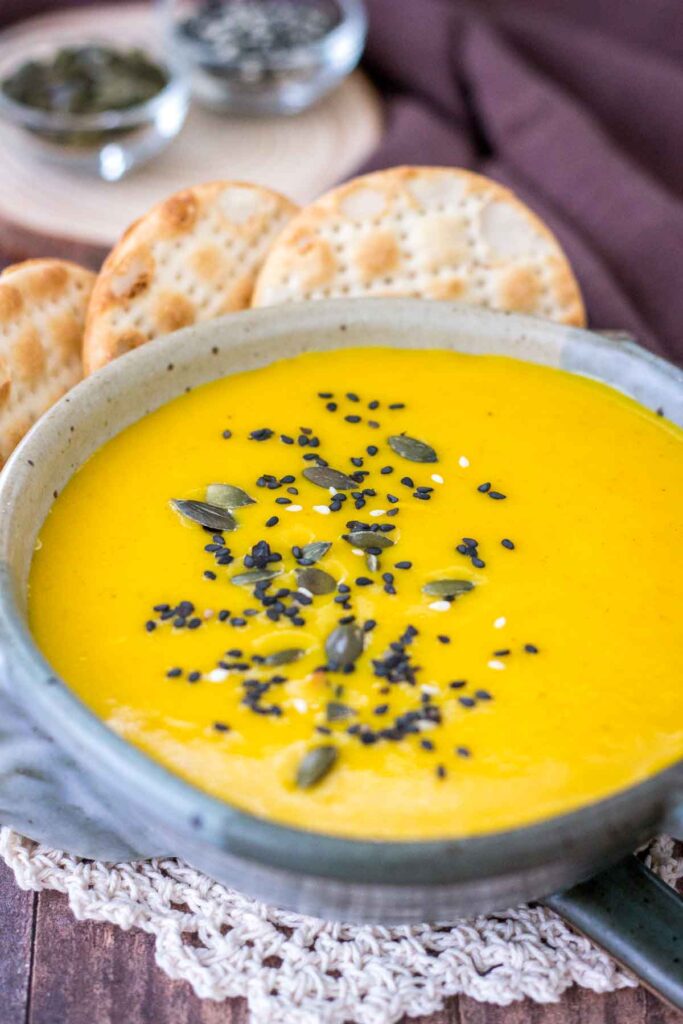 This sweet and spicy Carrot Curry Soup by Natalies Health is truly wonderful. It's bright, creamy, filled with aromatic spices. So delicious and healthy. It needs only a handful of basic pantry ingredients to make. Cheap, easy, family-friendly.
Congee is an excellent any day, any time comfort food, especially for one of those cold winter days or sick days. This recipe from Simple Fresh n yum is so easy on the tummy and gives such a wonderful soothing feeling, that you will always end up craving for more.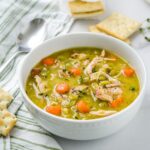 In this green pea soup with smoked turkey wings from Garlic and Zest, Thrifty dried peas and smoked turkey wings are transformed into a whole pot of tasty soup to feed a hungry family! It's savory, meaty, smoky and delicious.
Cheap dinners with left overs.
Using food you have left over in the house from yesterdays meal is a fantastic way to make your budget stretch further, but sometimes you don't just want to eat the same thing two days in a row.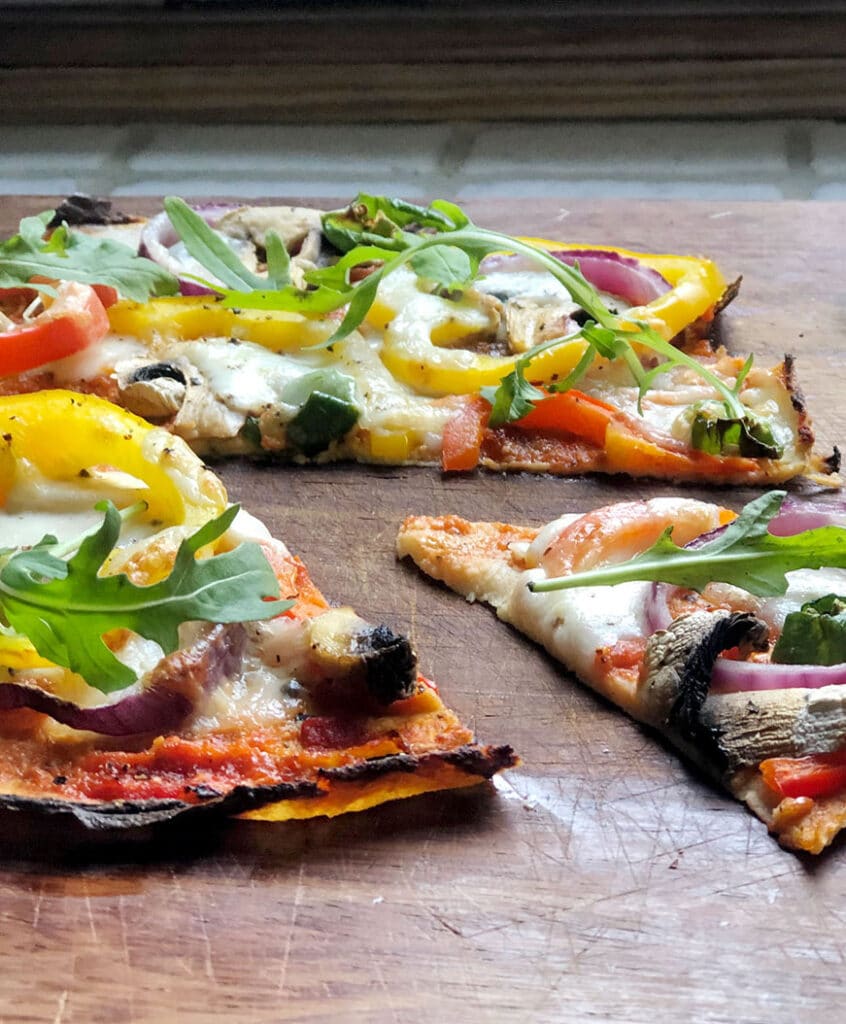 This Cauliflower pizza from Emma Eats and Explores is a meal for all the family and it only uses cauliflower and eggs - then top with anything you have in the fridge for a delicious pizza night!
Also from Emma Eats and Explores is this creamy fish pie that can use up any seafood you have in the freezer to make this delicious family favourite.
This macaroni and cheese casserole from Amandas Cookin is a great way to use leftover ham, or you can buy some boneless ham and cut it into workable portions to keep in the freezer. Pure comfort food that is a real crowd pleaser!
Dirt cheap pasta recipes
Any collection of dirt cheap meals will likely feature pasta heavily. The many different types of pasta you can buy at the store or make at home form the basis for so many affordable dinners. Despite their common base, these recipes have a huge amount of variety and are a fantastic way to fill hungry bellies.
This Easy Ravioli Lasagna recipe by All thats Jas is a shortcut way to well-rounded lasagna. A family-friendly meal with all the flavor of homemade lasagna with less work! Best of all, it only takes six ingredients to make!
Cabbage and nuts combined with spaghetti make for a wholesome, low cost and super-vibrant mid-week dinner. The Spaghetti with Cavolo Nero by Cook Eat Blog is jam packed with flavour!
For less than $15, you can feed up to 6 people with Easy Baked Mostaccioli by Savory Experiments.
My mushroom aglio olio recipe is quick, cheap and easy to make and a great variation on a classic pasta dish.
Add some zing to your pasta night with this salmon and broccoli pasta in a creamy dill-flavoured sauce from Foodle Club. Salmon and dill pair beautifully together. Add chopped mushrooms for extra flavour and peas for pops of sweetness and you have a delicious supper that's ready in next to no time.
Baked Feta Pasta with Cherry Tomatoes went viral for a reason, and it because it is delicious! A block of feta, cherry tomatoes, and fresh basil and you can make this great recipe from Cheese curd in paradise.
A black bean pasta recipe (also knows as chili mac and cheese) by Easy and Delish is made with only 5 ingredients in up to 15 minutes. You can cook on the stovetop, slow cooker, or pressure cooker. It is comforting, mildly spicy, cheesy, and so delicious! It costs just $1 per person.
This Cajun spiced spinach pasta from Framed Recipes is incredibly easy to make. This will make dinner easy and is delicious that you'll be happy to have leftovers. If you like Cajun flavors, this Pasta will be ready in 20-25 minutes tops!
This Authentic Italian Puttanesca sauce recipe by Italian Food Fast is so delicious, quick and easy to make! All you will need for Puttanesca sauce are some anchovies, capers, cherry tomatoes, garlic, chilli, olive oil and Parmesan cheese for dusting.
With just a few potatoes, a little ricotta, and an egg, you can create a budget friendly delicious homemade pasta dinner with Easy Homemade Ricotta Gnocchi with Lemon & Peas by Straight to the hips baby.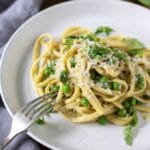 Pasta with peas by Veggie Desserts is a tasty budget-friendly 1-pot 10 minute midweek dinner that's bursting with fresh taste! It's a delicious, hearty and family friendly Italian dish (pasta e piselli).
Making this popular Egyptian street food Kushari at home is perfect in this quarantining and pantry-cooking age, and so easy too. Filling and delicious, All thats Jas's recipe for this historic national dish with a slew of maximum flavors and textures is also budget-friendly.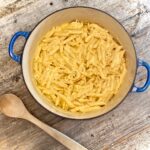 Mac and cheese with 3 kinds of cheese is perfect anytime but this recipe by the Art of Food and Wine is especially perfect when you realize you didn't thaw anything out for dinner! Pantry staples make this an easy go-to anytime.
Bologenese Pasta Bake by Greedy Gourmet is a fun variation on lasagna. Use your favourite pasta shape, drench in sauce and cheese, then bake away!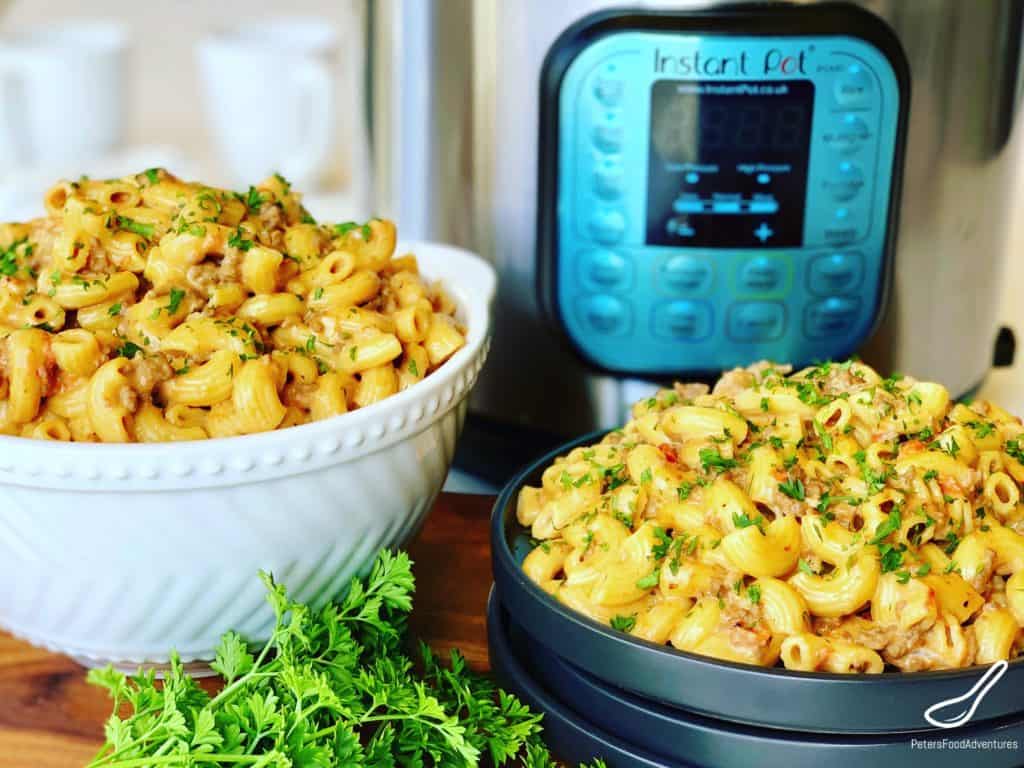 Instant Pot Cheeseburger Macaroni by Peters Food Adventures is an easy pressure cooker recipe made with creamy pasta, hamburger and cheese. A perfect budget friendly, comfort food dinner that your whole family will love.
Comfort food at it's finest. A family-favourite dinner, this spaghetti and meatballs dish by Casually Peckish is one that is not only delicious but a complete joy to eat!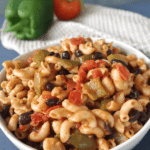 One Pot Taco Elbow Pasta by 2 Share my Joy done in 20 minutes and on a budget (only $1.50 per serving). Healthy vegan dinner recipe that is simple, family friendly, oil free, high protein (28 g), and weight loss friendly (430 calories).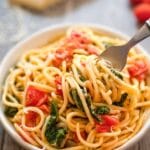 If you are looking for a quick, tasty, and budget friendly meal, this One-Pot Pasta with Spinach by Cooktoria is just what you need! Minimum cleanup and prep work – maximum flavor!
Easy Tuna Noodle Casserole from a Cedar spoon is another group option using simple ingredients you can find in your pantry. This meal mixes canned tuna, pasta, peas, cheese and a creamy sauce topped with panko breadcrumbs. Your family will love this easy and quick dinner!
Tuna Noodle Casserole by a Feast for a fraction is a classic dinner made almost entirely from budget-friendly pantry ingredients. Easily make simple swaps for the ingredients you have on hand. Just $1.33 per serving!
Dirt cheap rice recipes
Rice is one of the staple foods of humanity. It's cheap and can be turned into dishes with vastly differing textures and flavours. A simple cup of boiled rice is a great way to bulk out a meal at low cost but these recipes take the humble rice grain much further to make delicious, affordable meals.
Mujadara is a deliciously simple Middle Eastern dish of rice and lentils garnished with crispy caramelized onions. This recipe by Get Set Vegan is budget-friendly, nutritious and gluten-free.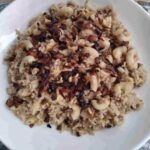 Koshari rice is an Egyptian rice dish that is mixed with brown lentils, macaroni, & rice, and it is garnished with fried brown onions. In this version by Theo Dehlicious The ingredients are affordable and it is perfect for a family dinner.
Dirt cheap beef recipes
Many low cost dinner ideas are vegan or vegetarian as meat can be one of the more expensive things to buy at the grocery store, however with the right recipe, relatively cheap minced meat (Known as hamburger in America and 'Mince' in Australia) can be turned into delicious meals that don't have to break the bank.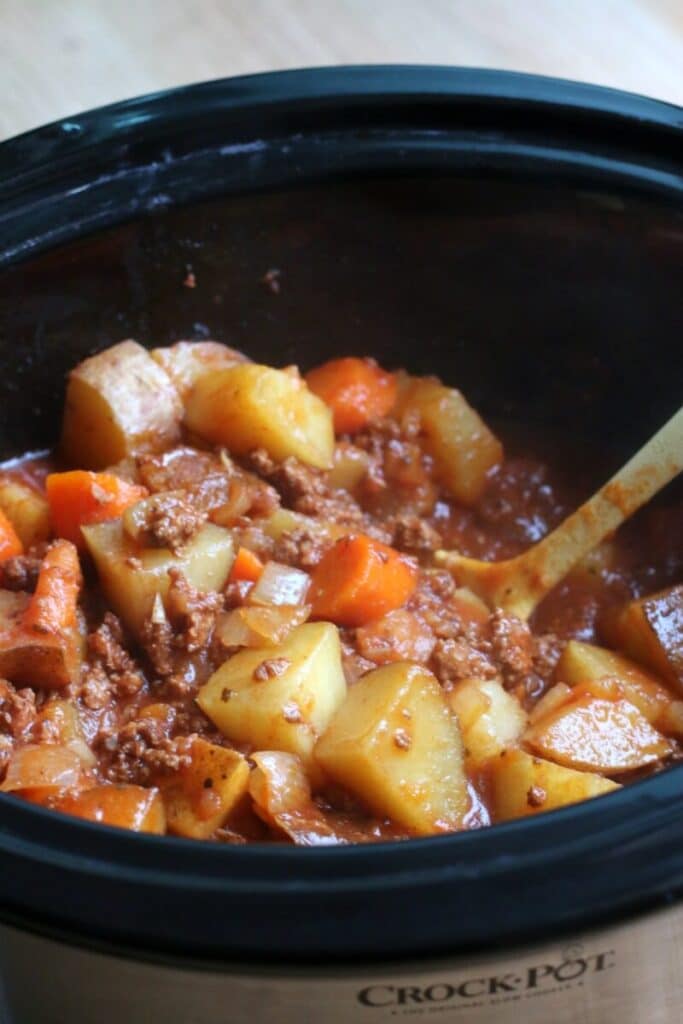 This Poor mans stew from the Magical slow cooker is sure to be a winter favourite on a budget with classic winter warming flavours and textures.
Homemade Sloppy Joes by Easy Budget Recipes is a classic dinner recipe that is easy to make and economical too! It takes less than 30 minutes to make and costs just $9.34 for six servings! That's just $1.56 per serving!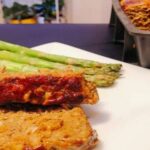 Dump and bake Meatloaf by Spice it up made with minced meat, 1 onion and sauces. The cost of the whole meal is roughly $5.
Remember Hamburger Helper? that super easy, super fast, super cheap dinner from your childhood. Now that you and your taste buds have grown up, it's time for your HH to grow up too. Don't worry - it's still easy, fast, and cheap, but this modern Hamburger Chili mac from Hoppin meal plans now has more flavour!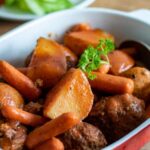 This oven meatball stew from Binkys Culinary Carnival is a vintage recipe that is incredibly easy to make and totally delicious! It's a complete meal in one pot.
Easy Beef Goulash is a tried and true comfort meal using ground beef, tomatoes and all the odds and ends in your vegetable crisper. This version by Savory Experiments is a great way to make a cost effective savory dinner!
A classic English dish, Shepherd's Pie is an easy to make family dinner with only a few key ingredients. This recipe by Vira flare is delicious, filling, and easy on the wallet for those looking to budget their meals.
This one pot rice and ground beef recipe by Simple Living Recipes can feed a family of up to 6 people for under $10 It's easy, delicious, and made in just One Pan.
Hamburger Steak with Mushroom Gravy by Our life tastes good is an easy and economical dinner to make any night of the week! You can have this whole meal on the table in under 30 minutes! About $4/serving
A delicious and hearty main dish, this ground beef and potato casserole by Sustain my cooking habit is as simple and easy to make as it gets and easy on the budget.
This Healthier Taco Mac from Maes menu is very budget-friendly, coming in at $1.25/serving. With ground meat, an easy homemade taco seasoning, and a creamy cheesy sauce it's a hearty and satisfying dinner recipe.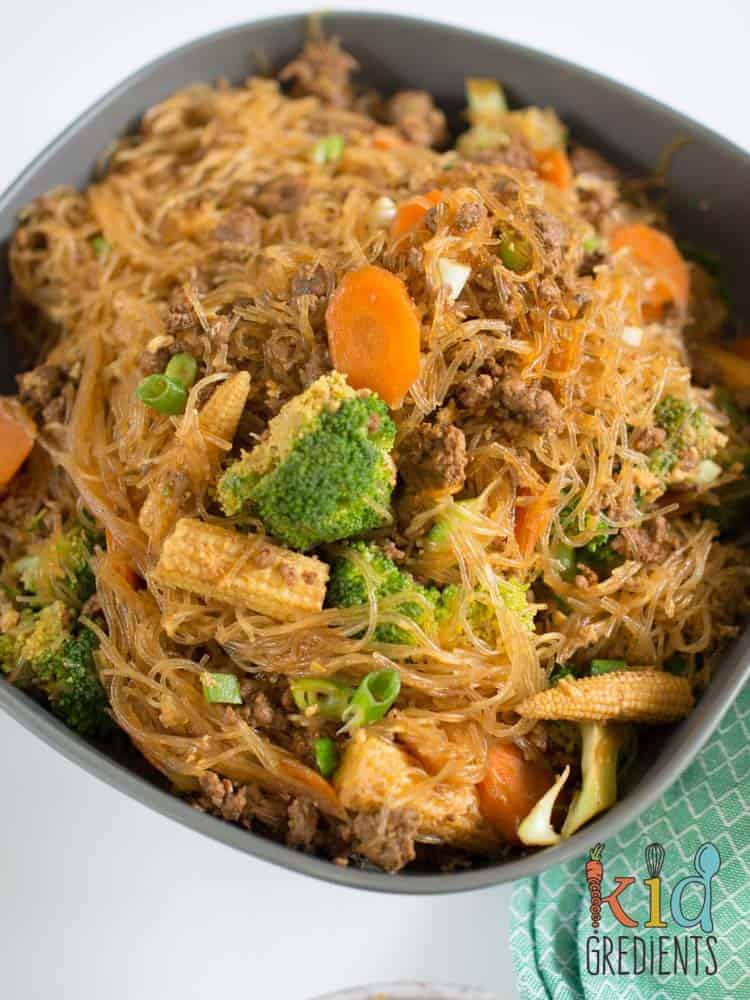 These fun beef and veggie rice noodles from Kidgredients are perfect for weeknights and super cheap to make!
Dirt cheap pork recipes
Pork can be a very cost effective meat but it can be tricky to find good, easy recipes to make with pork.
Using economical pork shoulder, this easy dutch oven pulled pork recipe from Worn slap out goes right into the oven after braising -- and makes the juiciest, moistest pork that can be used for so many meals!
This pork chop with pan gravy recipe from Garlic and Zest is quick and easy with just a handful of pantry staples and great for family dinner time!
These Instant Pot Pork Chops in Mushroom Gravy from This old Gal are made with fresh and all natural, homemade ingredients. No need to use canned cream of soup. (Low carb/keto option in recipe notes.)
Dirt cheap chicken recipes
Who doesn't love a roast chicken? Chicken is a fantastic, healthy protein source, but a plain chicken breast isn't always the most interesting thing to eat, These Chicken recipes give you a way to spice up your evening meals while keeping the budget under control.
Chicken and Noodles is a comforting family favorite pioneer recipe. This version by Garnish and Glaze is made with homemade egg noodles, a few simple ingredients, and served over mashed potatoes.
This chicken and biscuit casserole recipe by Mountain berry eats is perfect for end of the week meal planning as it uses pantry staples and can use frozen vegetables if desired.
This 5-ingredient Slow Cooker Pulled Chicken from the Art of food and wine is an easy way to pull together a delicious meal. Turn it into a sandwich and top with Asian Coleslaw for a cool twist.
Just because you're on a budget doesn't mean you have to skimp on flavor. This Chicken Burrito Skillet Dinner by Healthy with a chance of sprinkles serves a crowd while only using two chicken breasts and black beans to create a healthy filling meal that doesn't break the bank. This is the perfect weeknight meal!
This succulent Cabbage and Chicken by Cooktoria is hearty, filling, and so delicious. Just a few ingredients and about 15 minutes of active cooking time make up this amazing dinner.
This Panda Express Orange Chicken copycat recipe by Easy Budget Recipes is crispy, flavorful, and a little bit tangy. It tastes just like the Panda Express dish. This recipe serves 6 and costs $9.10 to make. That's just $1.52 per serving!
Ready to make some super flavorful Instant Pot Chicken Fajitas? Making Chicken Fajitas in the Instant Pot takes no time at all using this recipe by Recipes from a pantry and can be a healthy dinner option.
These crispy oven-baked Cornflake Chicken Tenders by Natalies Health are the perfect easy family dinner. Tenders are coated in sweet cornflakes for extra crunch, seasoned with aromatic spices, and baked to golden perfection. Delicious and so healthy.
These Blueberry Turkey meatballs by Wholesome family living might not be chicken but they are a delicious, easy and cheap family dinner Enjoy this 5-ingredient recipe for just $1.30 per serving or just $8 for the whole recipe!
Cheap and easy vegan meals
A great way to save money and maximize your budget is to eat plant based or vegan meals. Even if you aren't a vegetarian for environmental or ethical reasons there are some truly delicious vegan options below that your taste buds will appreciate, that cost very little to make.
Try this Easy spicy lentil chili by Melissa Straub for a quick and budget-friendly vegan meal that would go fantastically with some home made Indian style bread.
Such as this Aloo paratha is a potato stuffed Indian bread. This recipe from Culinary shades requires only a few pantry ingredients and makes a wholesome meal.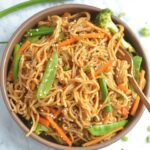 Do you ever have one of those nights where you want just want everyone to sit at the table and happily eat dinner, no complaining? This Instant Pot Vegetable Chow Mein recipe by The Belly rules the mind is a go-to recipe for that night!
Ready in under 30 minutes, this vegan chili by Very Veganish uses pantry staples like canned beans, red lentils and spices. Both Instant Pot and stovetop instructions included!
Potato stuffed peppers are a very easy vegan dish, This recipe by Taco and Tiramisu is a simple quick dinner that the whole family would appreciate.
This Lazy Falafel by Rhians recipes is super easy to make, will take up less than 30 minutes of your time, and tastes every bit as delicious as the traditional version!
These vegetarian quesadillas by Chelsea Dishes are loaded with veggies and feature affordable canned goods, making them a wholesome, convenient, and affordable meal!
Lentils and pulses are such great value for money - this delicious lentil shepherds pie by Emma eats and explores will fill you up without emptying your wallet!
This Thai green curry fried rice by My Plantiful cooking is super flavorful & delicious, yet surprisingly easy to make! A great way to use up leftover rice & is naturally vegan.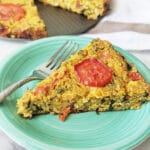 This baked chickpea flour frittata by Health my lifestyle is the perfect dish for breakfast, brunch or even dinner! It's incredibly filling—high in both protein and fiber.
These Vegetarian Baked Beans by Hurry the food up are thick and full flavoured with a moreish tang. Low in calories, ready in 15 minutes and just as good as the 'original' from Heinz!
This budget friendly easy vegan sweet potato chili by 2 Share my joy is oil free, gluten free, and great for weight loss. This one pot meal is instant pot and 21 day fix friendly and contains 420 calories for only $1.35 per serving.
This Black Bean Mushroom Burger recipe by 2 Share my joy is a healthy vegan alternative for beef patties. 2 patties contain 275 calories and are high in folates, minerals, and fiber. One patty costs about $0.58 to prepare for a budget friendly burger option.
This Hearty Vegan Lentil Soup Recipe from Jar of Lemons is perfect for an incredibly easy, affordable and healthy dinner! Made with wholesome lentils, fresh or frozen vegetables, diced tomatoes, and the best seasoning.
This easy & delicious coconut green lentil curry by Nourish Nutrition Blog is a great way to try out a vegan recipe with lentils. It's bursting with flavor & just takes about 30 minutes to cook. Make it with pantry staples such as coconut milk, canned tomatoes, lentils, and frozen veggies.
Enfrijoladas are the cousin of the enchiladas. These are made by dipping corn tortillas into a creamy bean sauce. This Mexican recipe by Mexican made meatless is easy to make with basic pantry ingredients.
Plant based folk has a great recipe for a savoury bowl of curried Barley Porridge with lentils and peas, resulting in a flavoursome nourishing meal on a budget.
This Black Bean & Sweet Potato Chili by The Darling Apron is a great vegetarian option that saves money by not having to buy meat. This chili comes together quick and is loaded with flavor!
This vegan lentil Bolognese sauce by Kelly Neil is hearty, nutritious, and only takes 25 minutes to cook! It's also cheap to make and freezes well.
This Ultimate Vegan Chili is thick, hearty, and meaty! This recipe by Vegan Huggs is loaded with veggies, beans, warm spices, and savory meat crumbles. It'll keep you cozy and satisfied during those chilly days, too! This recipe is easy to make, freezer-friendly, and perfect for potlucks!
This bright and flavourful vegetarian chilli recipe by The Cooking collective makes a great budget meal that is packed full of nutritious vegetables, beans and spices for a meat-free take on a classic favourite.
Creamy coconut sweet potato curry made with very simple ingredients in less than half an hour! This family-friendly sweet potato curry by Little sunny kitchen is so comforting, easy to make, frugal and delicious!
Ready in under half an hour, this Kale, Butter bean and tomato stew by Purple sprouting kitchen is nutrient-dense, comforting, intensifies over time, and is perfect for freezing.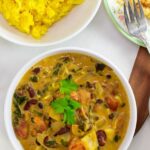 At less than $10 for six generous servings with rice, this vegan three-bean curry by A meal in mind is warming, savory, easy to make and gluten-free.
This Red Lentil Dahl by Vegan Huggs is a full-on comfort meal that your whole family will love. It requires common ingredients, minimal prep, and it'll cook up beautifully in 30 minutes or less while being incredibly budget friendly.
What about dessert?
To top off a dirt cheap meal you could decide to splurge on a more expensive dessert with your savings! If you'd like to save some more money however, you can use store brought Jello as a great dessert option at less than a dollar a serve or for something a little fancier you could make these Lamingtons that use staples you may already have in your pantry.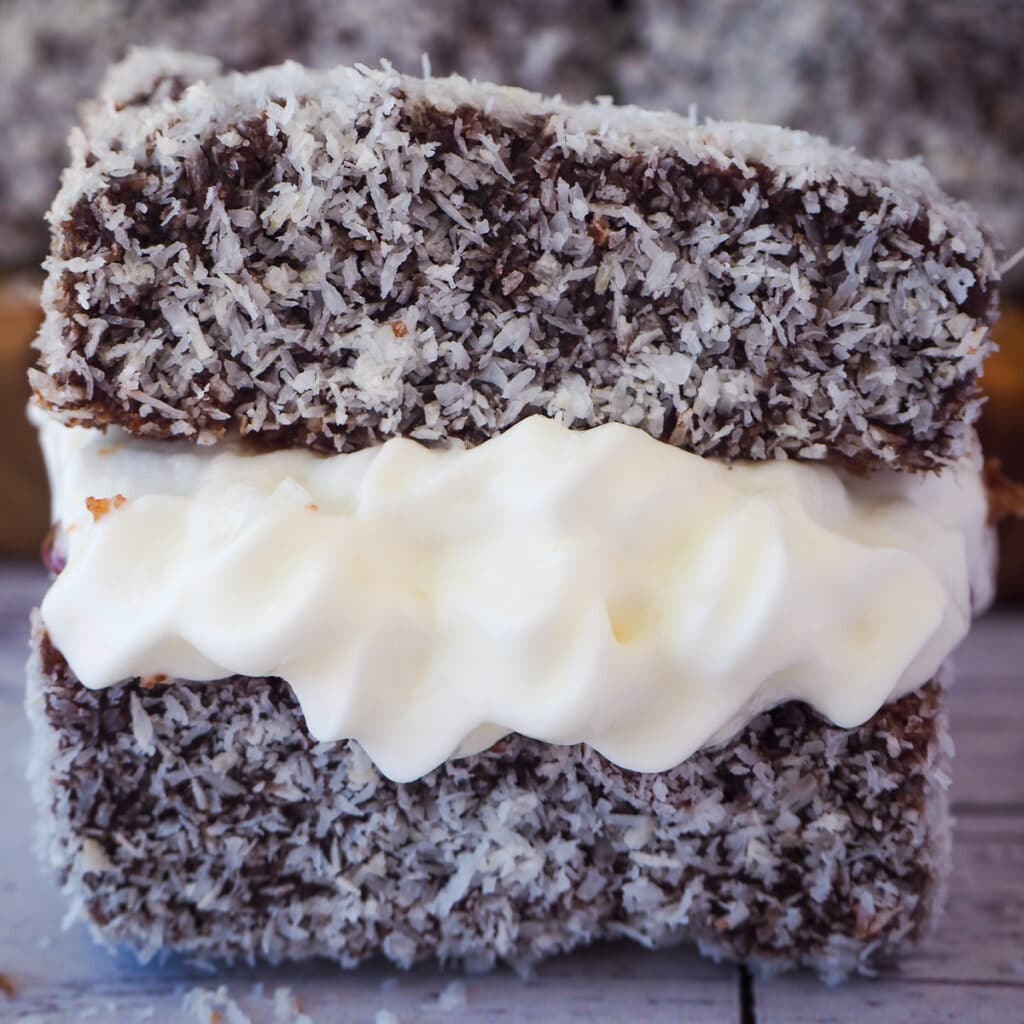 Tips and tricks for making dirt cheap meals.
You may be surprised by the quality and flavor of meals you can make cheaply at home. For a lot less than restaurant or takeout prices you can enjoy delicious food on a budget. However, it can be easy to fall into the trap of buying expensive ingredients, such as prime cuts of meat, when, with just a little technique, even cheap cuts can be turned into amazing meals.
My slow cooker lamb shoulder uses a cheaper cut of lamb and the magic of a slow cooker to make it incredibly tender.
Some of the best tips to help you make cheap meals are to leverage the staples you already have in your pantry, use cheap cuts of meat and cook them slowly to make them nice and tender, go vegetarian or vegan and to make large batches of food at once that you can freeze for later and enjoy over multiple meals.
Whether you are setting out on your own for the first time or have a large family to feed, it can be worth investing in some kitchen equipment to help you make cheap and tasty meals.
To turn cheap cuts of meat into delicious, tender dishes, a slow cooker, pressure cooker or instant pot can be worth their weight in gold, and you can pick up a cheap slow cooker from your local big box store very cheaply.
If you have your own vegetable garden at home, preserving vegetables when they are in season means you can make better use of them over a longer period of time, and put off shopping for produce a bit longer. One of my favourite garden vegetables is beetroot and this easy refrigerator pickled beets recipe lets me enjoy the beetroot from my garden for even longer.
Do you have any favourite budget friendly ideas for dirt cheap meals you'd like to share?, Let me know in the comments below.
For more great meal ideas follow the Aussie home cook on Facebook.
Pin it for later!