This mushroom aglio olio is a quick, easy and budget friendly dinner. With just six ingredients its on the table in twenty minutes.
Jump to:
This mushroom aglio olio is a quick and easy vegetarian and vegan meal. Its budget friendly and on the table in just twenty minutes for a mid week lunch or dinner in a flash.
What goes well with aglio olio?
Aglio olio is a classic Italian dish that goes well garnished with some fresh parsley and red chili flakes. Serve the pasta with some crusty bread or garlic bread and a simple garden salad for a tasty and healthy lunch or dinner.
Can I use vegetable oil for aglio olio?
If you want it to taste good then no you can't. Extra virgin olive oil really is best for aglio olio. The olive oil has a fresh fruity, complex flavor that you just can't replicate with vegetable oil in this dish. If you do decide to use vegetable oil you're pasta will be bland and no amount of extra seasoning will really make up for it.
Why is my aglio olio dry?
Aglio olio is generally dry because the pasta has been over cooked, and not enough oil has been added. You can fix this problem but saving half the olive oil to drizzle on right at the end of cooking, or add a splash of pasta cooking water as you're cooking your garlic.
Can I make aglio olio in advance?
You can but the pasta has a tendency to dry out unless you add some extra olive oil when re-heating it. Its best re-heat it in a hot frying pan with some extra olive oil for a few mins. But its so quick and easy you might as well make the pasta fresh when you're ready to eat it.
Ingredients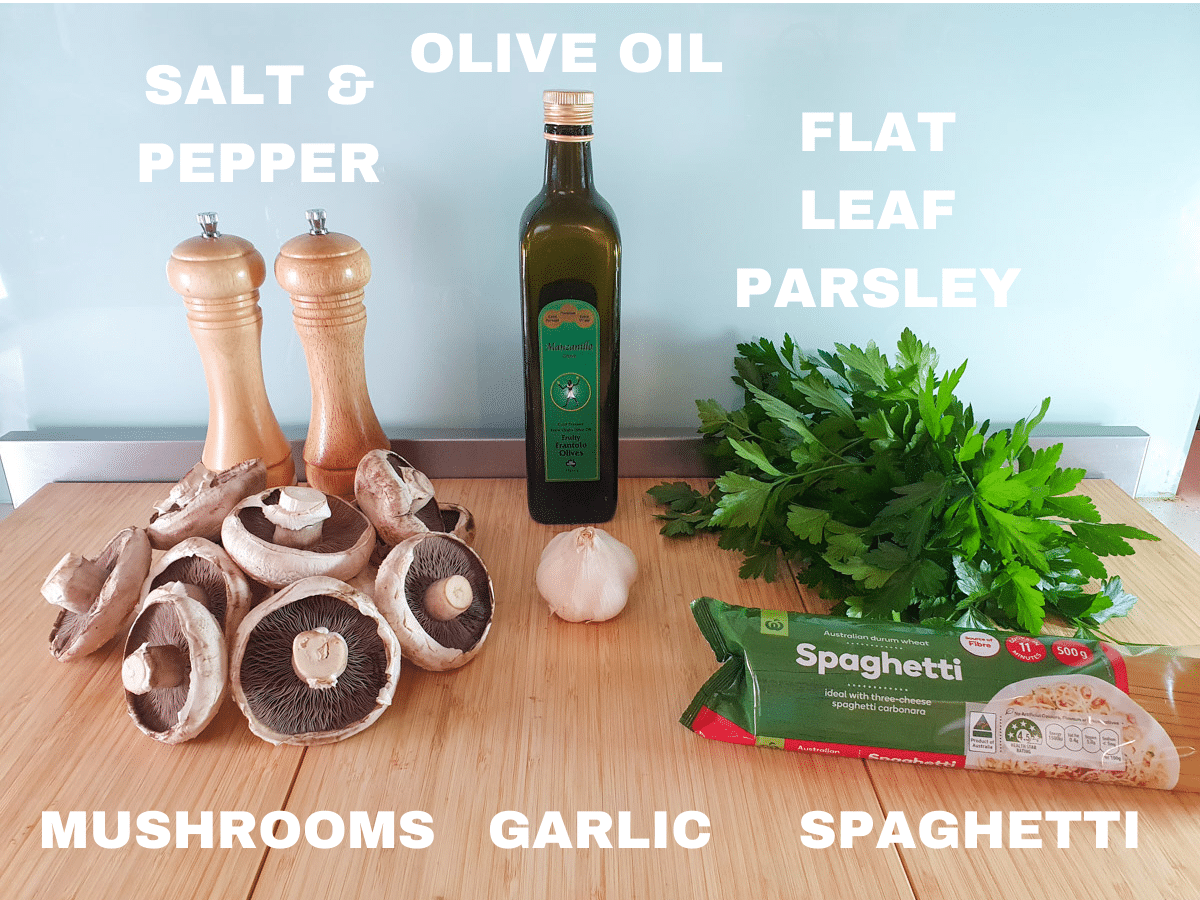 Pasta: spaghettie is the traditional pasta to use in this recipe but you could mix things up with whatever type of pasta you like. I'm also fan of spirals and penne, mostly because they are easier to eat!
Mushrooms: I tend to use large flat mushrooms in my cooking because its less chopping involved! You could easily use any other kind of edible mushroom such as button, brown, field or portabella.
Garlic: it would not be spaghetti aglio olio with a generous amount of garlic! Fresh really is best for this recipe, it won't be the same with minced garlic out of a jar.
Olive oil: a good quality extra virgin olive oil is best for this recipe.
Parsley: parsley is not a traditional addition to spagehetti aglio olio. But we always used plenty of parsley in our aglio olio when I was growing up because it tastes great, we had plenty of it growing in the garden and its basically a way of getting some easy extra veg into your meal. Make sure you use flat leaf parsley as its not a spiky around the edges. If you're not a fan you could replace it with similar leafy greens such as spinach or silver beet.
Salt and pepper: some freshly ground salt and pepper elevates the simple flavor in this recipe.
How to make mushroom aglio olio
Put a large pot of water on to boil for your pasta. While the water is boiling prepare the rest of your ingredients.
Peel the garlic cloves. Clean the mushrooms by giving them a wipe with a clean tea towel or if they are looking particularly grubby you can peel the skin off instead. Slice the mushrooms into pieces. Wash and finely chop the parsley.
Once your pasta water has come to a roiling boil add a good pinch of salt and add your pasta. Give it a couple of good stirs once the pasta is fully submerged to help stop it from sticking together. Have your colander in the sink ready for when the pasta is finished cooking.
Heat a frypan on high. Once heated add a good lug of olive oil. Add the mushrooms and cook for few minutes, stirring frequently, until wilted, cooked and starting to brown around the edges.
Add the chopped parsley, and crush the garlic into the frying pan. Cook for a couple of minutes, stirring well. If the pasta isn't ready yet take the mushrooms of the heat or the garlic will burn.
Drain the pasta well, then add the the frying pan with the mushrooms. Drizzle with remaining olive oil and season well with salt and pepper. Return to heat briefly until heated through, mixing the mushrooms through the pasta.
How to serve
To serve put divide between four to six plates and enjoy. Fabulous on its own or with some of my easy air fryer garlic bread on the side, and a glass of white wine if you like. Delicious!
How to store
This spaghetti will store in a covered container in the fridge for up to three days. To reheat you can microwave it for a few minutes, but its better if you pop it back into a hot frying pan for a couple of minutes with an extra drizzle of olive oil.
Have you made this recipe? Tell me how it went in the comments below!
Looking for more yummy recipes?
Why not try making
Follow me on Facebook for many more delicious recipes.
📖 Recipe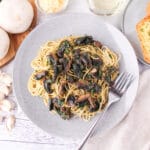 Print Recipe
Mushroom aglio olio
This mushroom aglio olio is a quick, easy and budget friendly dinner. With just six ingredients its on the table in twenty minutes.
Ingredients
1 lbs

(450gms)

spaghettie or pasta of choice

¼

cup (63mls)

extra virgin olive oil

1

lbs (450gms)

mushrooms

1

large bunch

flat leaf parsley (optional)

8

cloves

garlic

salt and pepper, to taste
Optional to serve
flat leaf parsley

shaved parmesan

red chili flakes
Instructions
Put a large pot of water on to boil for the pasta.

Clean the mushrooms if needed by wiping them with a tea towel. Don't wash the mushrooms in water or you will get soggy mushrooms.

Slice the mushrooms, peel the garlic and finely chop the parsley.

Once the water is boiled add some salt the water and put the pasta onto cook. Give the pasta a good stir so it doesn't stick together.

After about five minutes heat the frying pan and add half the olive oil. Fry until soft and starting to brown

Add the parsley and cook until wilted and cooked.

Crush the garlic and cook for another min or two, then take off the heat until the pasta is done.

Once the pasta is cooked drain well then add to the frying pan. Drizzle over the rest of oil oil, stir well and season with salt and pepper. Toss well until mixed in and the pasta is well coated.

Serve immediate. Fabulous on its own or with some of my easy air fryer garlic bread.
Join the community!
Like The Aussie Home Cook on Facebook for more great recipes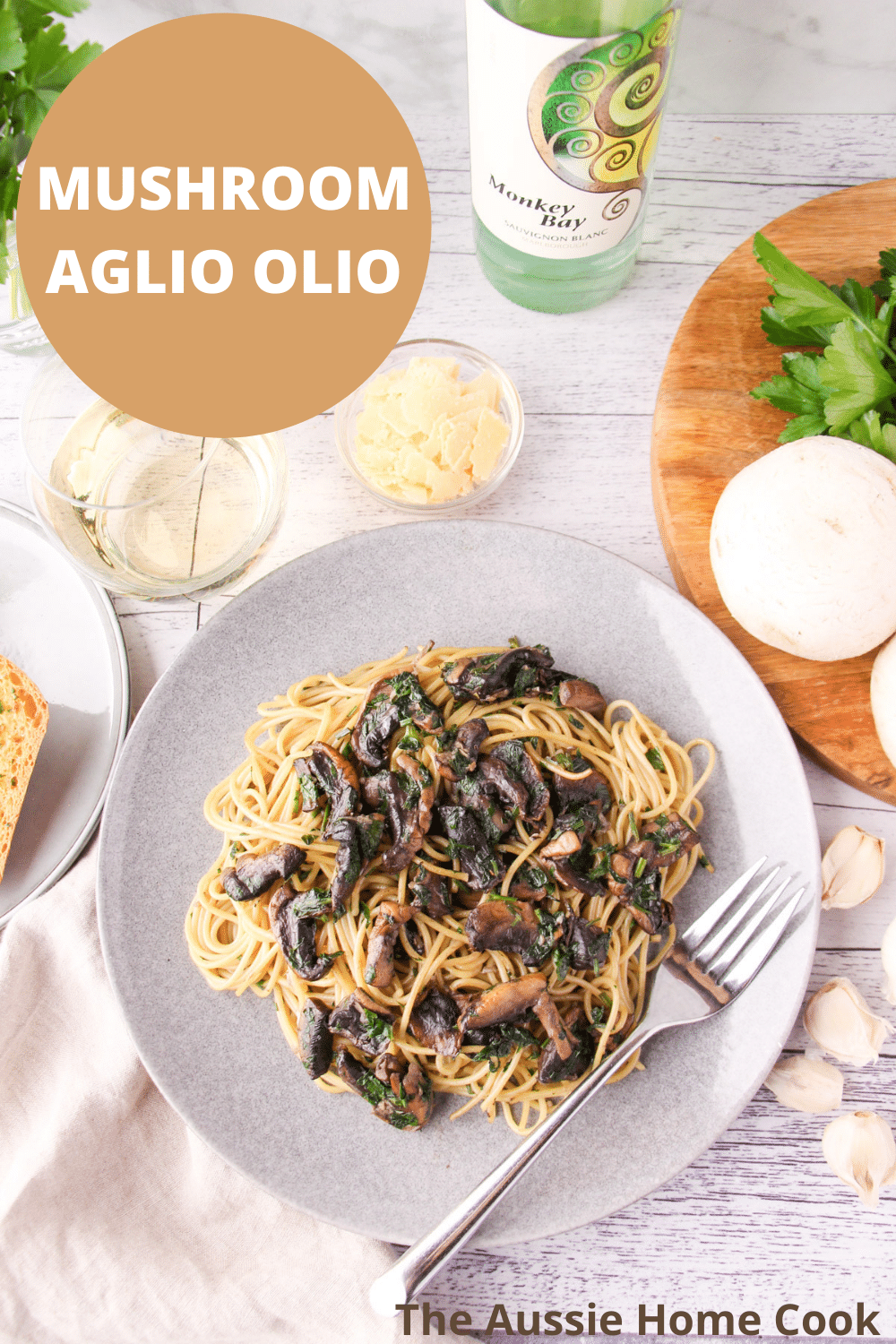 Pin it for later!