This beetroot salad makes fresh addition to your summer menu. Perfect for a BBQ or when you need something light and easy.
Jump to:
Beetroot or beets as they are called in the USA are a bit of an Australian obsession. We eat it in salads and famously on our burgers. A tin of beetroot is fairly ubiquitous in most Aussie kitchen cupboards. Many a time when I've made burgers for the family my youngest and I have been known to finish off the jar of my refrigerator pickled beets while we are waiting for dinner to cook!
This easy summer salad takes this classic Aussie flavor and throws them into a quick and easy salad. Often beetroot salad contains goats cheese and walnuts. I have mixed things up by pairing beetroot and fetta here with some roasted pepita seeds to add crunch and texture. I hope you enjoy it as much as my family and I do.
Ingredients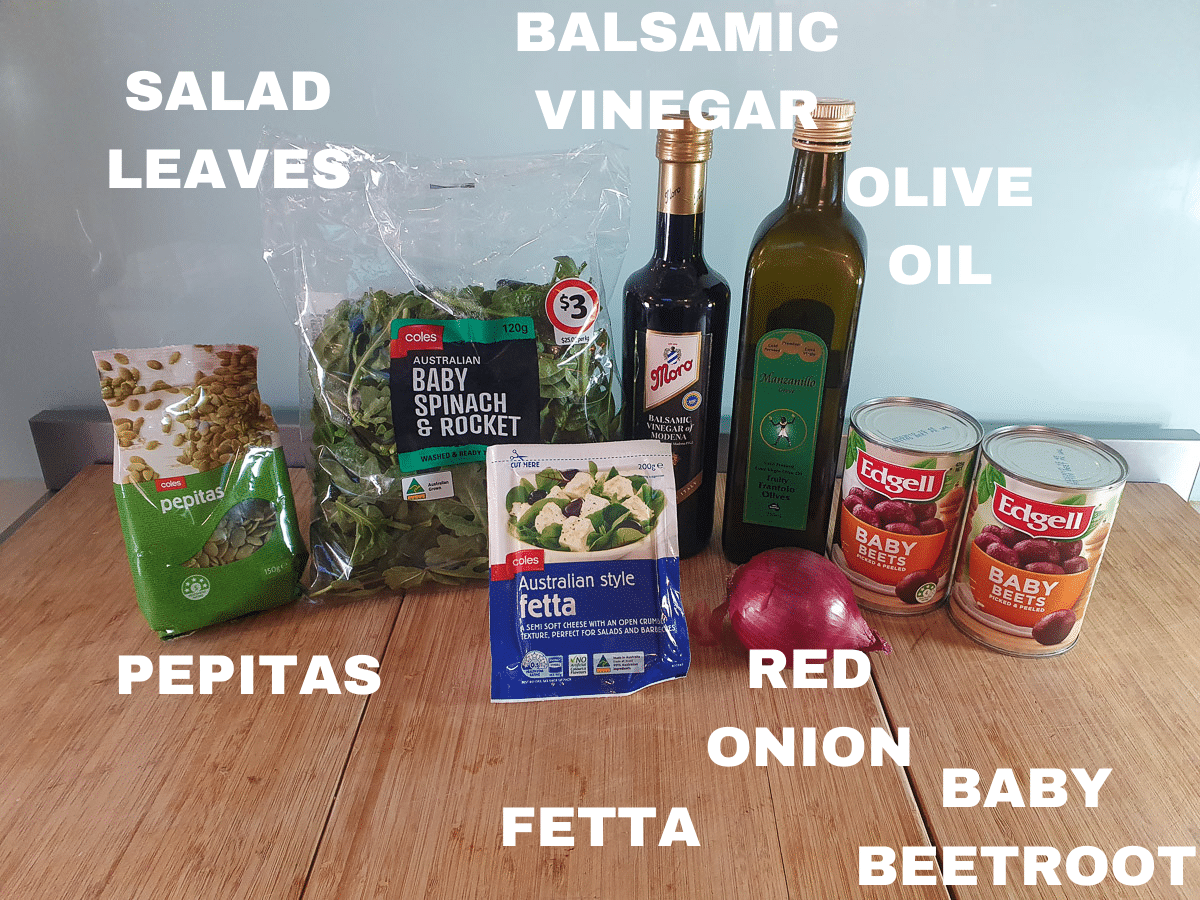 Beetroot: I keep things quick and easy I used tinned baby beetroot in this recipe. You could use fresh beetroot if you prefer, in which case I recommend roasting them first.
Feta cheese: a good sharp fetta cheese adds a punch of flavor and salt to this salad. I use Australian-style fetta cheese, I like its firm crumbliness. You could use Greek or Danish style fetta or another strong creamy cheese such as goat's cheese.
Pepitas: also known and pumpkin seeds. Lightly toasting the seeds gives this salad some crunchy nutty notes while also keeping things nut-free. You could replace pepitas with sunflower seeds or with some creamy nuts such as almonds or macadamias.
Red onion: red onions add flavor and crunch to this salad. I generally prefer to use red onions raw in salads as they are milder and sweeter than brown onions. You could use finely chopped spring onions (aka scallions or green onions) if you prefer but it won't have the same colour pop.
Salad leaves: I like to use a peppery mix of spinach and rocket leaves in this salad to spice things up a bit. You can use whatever salad mix you like, or even your favorite lettuce, just make sure its fresh and crunchy.
How to make beetroot salad
This salad could not be easier to make.
First, heat up a frying pan and dry roast the pepitas. Don't add any oil, you don't need it. Roast the seeds, shaking the pan regularly. When several seeds start to brown and the pan smells roasted remove from the frying pan and pour into a heat-proof dish. You need to watch them carefully and remove from the frying pan when they are done or the seeds will burn.
Next wash your salad leaves and give them a good spin in a salad spinner or carefully pat them dry with a tea towel.
Open up the tin of beetroot and drain off the liquid. Tip the beetroot into a bowl. If any of the beets are particularly large you may want to cut them in half or even quarters. Cut the fetta cheese into chunks. Peel and finely slice the red onion.
Now you're ready to assemble your salad.
Take a pretty serving bowl. Add the salad leaves to the bottom. Spread over the drained baby beetroot, then cubed fetta, then red onion. Finally sprinkle with toasted pepitas and you're done!
How to serve
This beetroot and fetta salad is great served as a side to BBQs and roast meats, including my slow cooker lamb shoulder. I like to dress mine with a little good quality olive oil and a splash of balsamic vinegar to keep things simple.
Keep in mind the beetroot will color the feta cheese if kept for too long. If you need to make it ahead I recommend making the individual elements and storing them separately, then assembling right before serving.
How to store
This salad is best eaten on the day it's made for maximum color and freshness. Provided it hasn't been out of the fridge for too long, if you have any leftovers it will keep in an airtight container in the fridge for up to three days.
Have you made this recipe? Tell me how it went in the comments below!
Looking for more yummy recipes?
Why not try making
Follow me on Facebook for many more delicious recipes.
📖 Recipe
Print Recipe
Beetroot salad
This beetroot salad makes fresh addition to your summer menu. Perfect for a BBQ or when you need something light and easy.
Ingredients
½

cup (75gms)

pepitas

1

tin (15oz/425gms)

baby beetroot

1

small piece (4oz/100gms)

fetta cheese

½

medium

red onion

½

packet (2oz/60gms)

salad leaves such as spinach and rocket
Optional dressing
2

tablespoons

extra virgin olive oil

2

tablespoons

balsamic vinegar
Instructions
Heat up a frying pan and dry roast the pepitas, shaking the frypan frequently until they are lightly toasted. Watch them carefully and remove from the heat and dip out into a heat proof bowl as soon as they are done.

Wash the salad leaves and dry in a salad spinner or carefully pat dry with a tea towel.

Drain the beetroot. Cut some of larger beetroot up into halves or even quarters if they are a bit big.

Cube the fetta cheese. Peel and finely slice the red onion and break apart into long thin pieces.

In a serving bowl add the salad leaves, then beetroot, then red onion, then fetta and sprinkle with roasted pepitas.

Dress with balsamic and olive oil if desired or put these on the table for people to dress the salad themselves.
Join the community!
Like The Aussie Home Cook on Facebook for more great recipes
Pin it for later!