These roasted mini potatoes are quick and easy to throw together. The perfect side for roasts, BBQs and mains when you need some roasted carby goodness.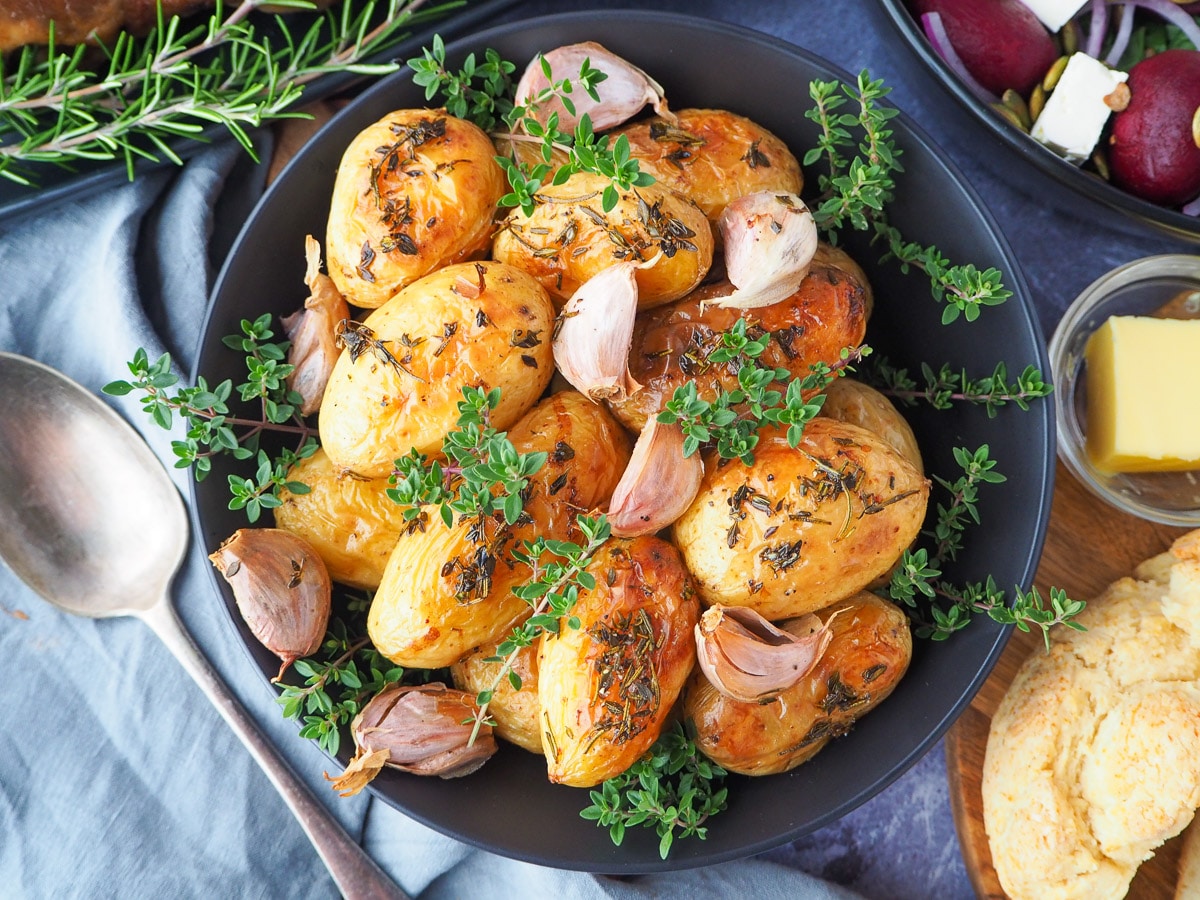 Jump to:
Roasted baby potatoes has to be one of the ultimate comfort foods. There is something about cracking open a freshly baked potato and watching the steam waft out before slathering in lashings of butter and sprinkling it with freshly ground salt and pepper.
These easy oven roasted mini potatoes are super simple and such a versatile side dish. They pair perfectly with just about any roast meats or vegetables and make a great dish to scale up to feed a crowd for a BBQ or pot luck aka bring a plate meal.
What are mini potatoes?
Depending on where you are mini potatoes are sometimes also called new potatoes or baby potatoes. New potatoes are potatoes that are harvested before they reach full maturity, can be anything from a marble size upwards, and generally have thinner skin and are sweeter and less starchy.
They are not generally a specific variety of potato as such, by rather baby potatoes of any variety that have not reached full size.
Are baby potatoes just small potatoes?
Sort of. Baby potatoes are small potatoes that have not reached their full size, and are harvested early. The early harvesting means they have thinner skin, more sugars and less starches, making they great for roasting and eating whole with minimal preparation.
Key ingredients
Mini potatoes: sometimes also called new potatoes, baby potatoes. The are usually available at the beginning of potato season in early summer but are often available at other times of the year as well.
Olive oil: some good quality olive oil will help roast the potatoes. I like to use extra virgin for maximum flavor. If you're not a fan of olive oil you could use your prefer oil for roasting.
Garlic: some fresh garlic cloves add some lovely flavor to these potatoes. And the great thing is you can leave them whole, they actually work better without peeling them! The garlic cloves will infuse into the potatoes and take on a lovely mild, mellow flavor. You can either eat them with the potatoes or leave them on the plate.
Fresh herbs: the recipe works best with more woody herbs such as rosemary and thyme. You could also try with your other favorite roasting herbs such as sage or bay leaves. Its best to use fresh herbs if you possibly can, it will have much better flavor. If you just can't get fresh herbs you could use dried. Try to make sure its jar that's been freshly opened and not one that's been sitting around in the back of the cupboard forever, it'll have no flavor.
How to make roasted mini potatoes
Pre-heat your oven to 392°F (200°C).
If your potatoes have any sprouting bits cut them off. Put your potatoes whole onto a roasting tray. Depending on how big your potatoes are if you want them to cook faster you can cut them in half or even quarters.
Drizzle with olive oil and swish around the pan to coat in oil. Try to have the potatoes spaced evenly in the pan with space between them so they will cook quicker.
Break apart the garlic gloves but do not peel. Scatter the whole cloves between the potatoes.
Remove the herbs from the stalks and chop finely. Scatter over the potatoes. Top with a generous grind of fresh salt and pepper.
Bake in the oven for 20 to 40 minutes. The slightly larger potatoes shown here took a good 40 minutes to bake. If you have smaller mini potatoes that are more like the size of a ping pong ball or smaller they could take as little as 20 minutes to cook in total.
After half the time minutes remove from the oven and carefully turn over with tongues. Return to oven for remaining time minutes.
To test of the potatoes are done carefully skewer one of the largest potatoes on the tray with a small sharp knife. The knife should go in cleanly and easily without any bite or resistance. If not return to the oven and cook for a further ten to fifteen minutes before checking again. Under cooked potatoes are awful to eat so best to pop them in for a bit longer if you're not sure.
How to serve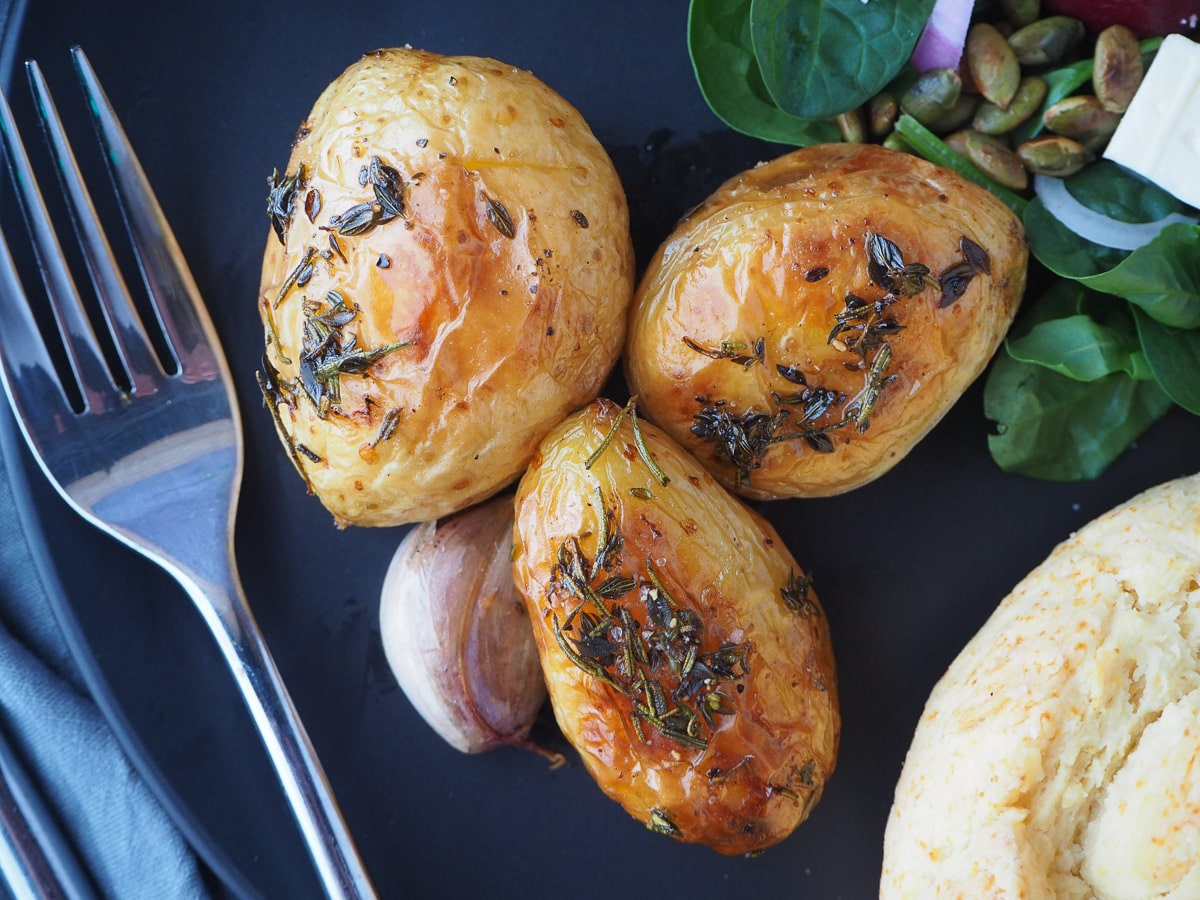 To serve these baked mini potatoes you can put the baking tray straight onto a heat proof trivet on the table, or transfer to a pretty serving dish, including the garlic from the tray. Scatter scatter with some extra fresh herbs and put onto the table for people to help themselves. Fabulous as a side with some slow cooker lamb shoulder, some wonderful fresh beetroot salad and some crusty damper or as a side to a BBQ or your main meal of choice. Delicious!
How to store
These oven roasted mini potatoes are best eaten warm out of the oven. If you have any left overs they will keep in an airtight container in the fridge for up to three days. To reheat you can pop them into the microwave for a minute or two or back into the oven at 355°F (180°C) for ten minutes or so.
Have you made this recipe? Tell me how it went in the comments below!
Looking for more yummy recipes?
Why not try making
Follow me on Facebook for many more delicious recipes.
📖 Recipe
Print Recipe
Roasted mini potatoes
These roasted mini potatoes are quick and easy to throw together. The perfect side for roasts, BBQs and mains when you need some roasted carby goodness.
Ingredients
2

Lbs (1kg)

mini or baby potatoes

2

tablespoons

extra virgin olive oil

6 - 8

whole

garlic cloves

1

long sprig

fresh rosemary

several

small sprigs

fresh thyme

salt

pepper
Instructions
Pre-heat oven to 392°F (200°C).

If there are any sprouting bits on the potatoes cut these off.

Break the garlic into individual cloves but do not peel them.

Remove the rosemary and thyme from the stalks and finely chop

Add the potatoes into the pan. Drizzle generously with olive oil and swish around the coat all over.

Try to space the potatoes out so there is room between them is possible, but its ok if not.

Scatter the garlic cloves in the pan. Sprinkle with chopped rosemary and thyme.

Sprinkle with freshly ground salt and pepper.

Put into the oven and bake for about 20 to 40 minutes depending how big your potatoes are, turning once half way through.

To test if the potatoes are full cook skewer one with a small sharp knife. The knife should go in easily with little resistance. If the potatoes still feels hard they will need to cook for longer. Return to the oven and check again in ten to fifteen minutes.

To serve remove from the oven, transfer to a serving plate or directly onto plates. Garnish with some additional fresh herbs if desired. Lovely as a side to some slow cooker lamb shoulder, beetroot salad and damper, or you favorite roast or summer BBQ. Delicious!
Join the community!
Like The Aussie Home Cook on Facebook for more great recipes
Pin it for later!